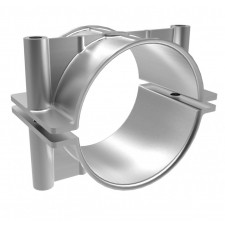 Two Bolt Cleat (Aluminium)
An LUL approved two bolt cable cleat which can be applied to all types of cable routes.
Features and Benefits:
Suitable for use with cable diameters 51 to 159mm.
Can be double stacked on common fixings.
Suitable for LV & HV cables.
Can be used for all types of cable routes.
Plain finish – for normal industrial areas or outdoor unpolluted areas.
Epoxy coated versions available for harsh environments.
Tested in accordance with BS EN 50368.
LUL APR Product ID 1963.