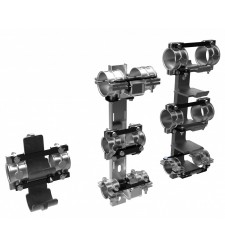 Rigid Tunnel Clamping Arrangement
These innovative solutions allow the installation of cables where space restrictions mean a conventional installation is not possible. If there is unsufficient space to allow the thermal expansion 'sag', a rigid installation may be the option.

The solution utilises a dual set of standard cleats and offers a variety of bespoke clamping arranges to meet the system design.

Contact the Prysmian Components technical team who will be able to help with your cable design.