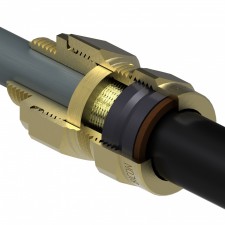 KA414-B CX - B Gland Kit (Long entry thread)
The CX-B Gland is an industrial cable gland for easy termination and inspection of braid wire armoured cables.
Indoor & outdoor type for Wire Braid Armour cable.
15mm Entry threads to facilitate extra seals / lock washers.
For Wire braid armour plastic or rubber sheathed cables.
Suitable for most climatic conditions, weatherproof and waterproof.
Three part armour lock with seperate armour locking ring, ideal for checking electrical continuity.