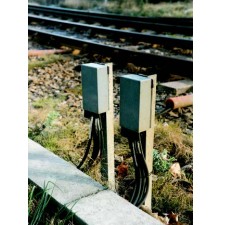 Trackside Disconnection Boxes
Unique design incorporates a hard neoprene moulded back plate, with sliding steel cover - providing excellent accessibility.
With the cover removed, access to the internal terminals is available on all sides.
Cover is epoxy coated to resist corrosion and includes the facility for security padlocking.
Moulded cable nesting grooves simplifi es installation as no traditional glands are required.
Securing the cable requires a single Allen key, which contributes to rapid assembly and allows cable routings to be checked quickly and easily.
Once the cover is closed, the box is watertight and prohibits water ingress even in flood conditions.