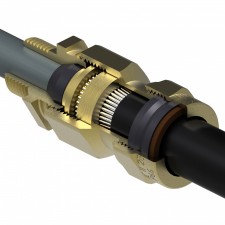 E1WF NPT Cable Gland Ex d IIC / Ex e II (472NP)
The E1WF weatherproof hazardous area NPT cable gland is a dual seal high performance armoured cable gland for steel wire armoured cables.
Brass indoor and outdoor armoured cable gland for use in hazardous areas.
Suitable for circular, galvanised steel wire armour cables with extruded polymeric bedding and oversheath.
Achieves IP66 seal onto cable and to enclosure with suitable sealing washer or thread sealant.