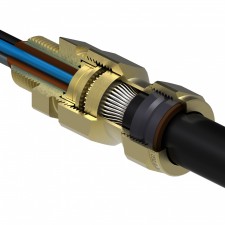 424TW BARR-W Ex d IIC Gland
The Barr W is a barrier type explosion proof cable gland for steel wire armoured cables which aids the control of migrating gasses. The Barr W includes bicaseal putty and is the best choice for when the highest level of hazardous protection is required.
Brass indoor and outdoor cable gland for use in Zone 1 and Zone 2 hazardous areas
Suitable for circular, galvanised steel single wire armour cables with extruded polymeric oversheath and extruded or taped bedding.