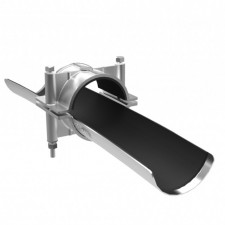 Shoe Cleat
The shoe cleat offers additional support for large cables where single point loading and linear expansion need to be considered.
Allows for the linear expansion of larger cables the support positions are often broadly spaced.
Redcues very high point loading on the cables which could lead to long term failure.
Designed to allow potentially damaging load to be spread over a significantly longer length.
Based on the 370 series of aluminium 2 bolt cleats.
Shoes made from 316L stainless steel with rubber lining.