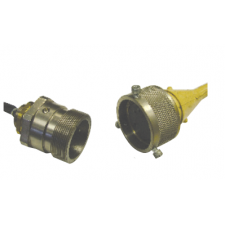 Points Machine Plug Coupler
Provides a relaible, easy to install connection from the point machine to the disconnect box. The cornerstone of the design is a plug and socket arrangement on the point machine. Preterminated leads complete the system with a socket on one end and a moulded palm on the other.
Specially designed for use with Alstom HW point machine.
Nickel plated brass plu and socked arrangement will not deteriorate during service.
Tactile locator pips ensure that correct orientation can easily be achieved in the worst conditions.
Pre-terminated socked leads, available with moulded palm on the other end of the cable.
Available in standard lenghts: 5m, 10m, 15m and 20m. Any required length can be supplied in 5m increments.