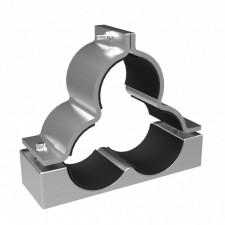 Orion Cable Cleat - Shaped
The orion cable cleat provides the strongest support for cables
laid in trefoil formation. Suitable for LV, MV and HV cable
designs, the orion cleat features deep cast bases to aid
easy cable installation.
Features and Benefits:
Suitable for use with cable diameters 85-155mm.
Suitable for use on LV, MV & HV cable designs.
Designed for use with larger diameter single core cables laid in trefoil formation.
Deep section cast bases aid cable installation.
Tested in accordance with EN 50368:2003.