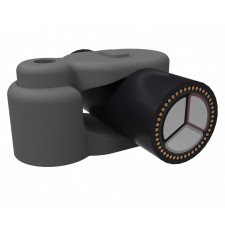 Heavy Duty Hook Cleat
The Heavy Duty Hook Cleat is a two piece, single fixing cable cleat designed to aid single person installation.
Features and Benefits:
Suitable for use with cables diameters 25 to 80mm.
Manufactured from glass-filled nylon.
Can be double stacked on a single fixing.
Can be installed in temporary open position to aid single person working.
For normal industrial use Indoor and Outdoor.
Not designed to secure cables in long vertical routes.
Tested in accordance with BS EN 50368.