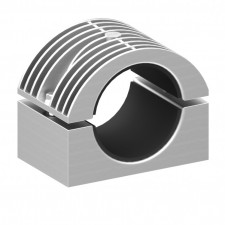 Heavy Duty Two Bolt Cleat (Aluminium)
The Heavy duty aluminium two bolt cable cleat is specifically designed for HV cables installed along both horizontal and vertical routes.
Features and Benefits:
Ideally suitable for larger cables with diameters 100 to 159 mm.
Manufactured from aluminium alloy.
Designed to protect the cable sheaths during installation.
Plain finish- for normal industrial areas or outdoor unpolluted areas.
Epoxy coated versions available for harsher enviroments.
Supplied with rubber liners.
Tested in accordance with BS EN 61914.