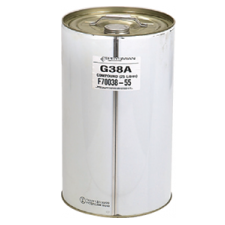 G38A Compound
Prysmian G38A cable box filling compound is a "hot-pour" compound designed to provide an oil resistant high voltage cable joint, termination box or transformer filling compound for medium voltage (MV) cables up to 36kV – supplied as standard in 25 litre tins.
G38A hot-pour compound is heated prior to pouring into the cable box, box or transformer.
Protective clothing should be worn to prevent accidental skin burns – this
should include gloves, boots, overalls and eye protection.
G38A hot-pour compound must be heated in a clean and dry compound
bucket to prevent carbonised deposits being introduced from previous
heating operations. Hot pour compounds will tend to contract on cooling
and it is necessary for a "top-up" pouring to complete the high voltage
insulation to MV cable boxes, switchgear or transformers.