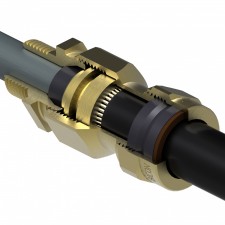 KA413 E1W Industrial Gland Kit
The E1W Gland is a weatherproof dual seal high performance cable gland for steel wire armoured cables.
Brass Indoor and outdoor gland accessories.
For galvanized-steel single-wire armour plastic or rubber sheathed cables.
Suitable for most climatic conditions, weatherproof and waterproof.
Three part armour lock with seperate armour locking ring, ideal for checking electrical continuity.