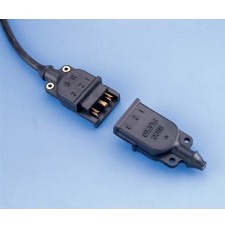 Vehicle Couplers and Battery Charging Leads
The wagon coupler was designed for use in the lighting circuits on ballast wagons. The design is totally waterproof and resistant to the abrasive dust associated with ballasting.
Battery charging leads are designed for use with all types of locomotives, diesel multiple units, and locomotive hauled coaching stock.
Both types of lead are higly resistant to any damage that might be caused by vehicle uncoupling with the cables still connected.