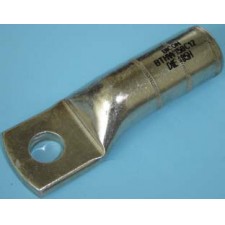 Terminals for Medium Voltage Cables
These connectors are manufactured from thick wall High purity oxygen free copper tube which is subsequently tin plated and waterblocked. The waterblock or waterproof seal, is provided by adding a small quantity of polyurethane resin to the base of the compression barrel.
Die set and catalogue numbers are marked on the connector. The compression barrels have knurl markings to indicate crimp positions.
The terminals are suitable for indoor or outdoor applications and are installed by circumferential die sets. The extended barrel and smooth compressions are particularly suitable for the application of protective sleeving.