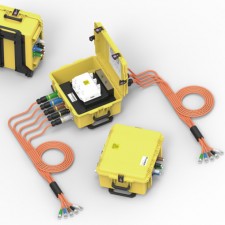 Mobile Link Box
Prysmian's Low Voltage Mobile Link Boxes are used to bypass local network faults or assets planned for replacement. They can be used to help reduce or eliminate network interruptions and thus reduce or eliminate Distribution Network Owner costs incurred by 'Customer Minutes Lost' (CML) and 'Customer Interruptions' (CI's).
Features and benefits:
Portable, watertight, lightweight, and easy to transport. The mobile link boxes are mounted in wheeled cases, making them easier to transport to urban and rural sites.
Small enough to be carried in the back of a car or van.
The cases, connectors and lead assemblies are rated to IP67.
Utilises industry standard solid wedge type links or "J" type fuses to BS HD 60269-2:2013, BS88-2:2013.
Available with standard 5 metre lead sets.
Custom length leads and extension leads are available when needed.
Mobile link-boxes are available for PME or SNE configured networks.
Integrated test points for L1, L2, L3, N and E are available within the unit.
Can be jointed directly onto polymeric and paper insulated LV distribution cables.
Can be used on a live network using current utility equipment and standard practices.
Can be used to bypass a fault on a live cable to maintain supply during a repair.
Can be used to bypass an ageing asset during the replacement process maintaining customer supply.