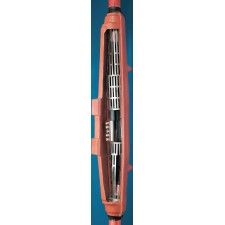 LV & MV Hydrocarbon Resistant Joints
LV Joints
This range of joints is based on the Prysmian low hazard JEM resin encapsulation together with rigid glass reinforced outer shells which provide excellent resistance to the hydrocarbons found in many installations.
MV Joints
This range is built around the Prysmian Elaspeed™ cold-shrink joint bodies – which
reduce jointing time and improve system reliability. These one piece joint bodies can be used with compression or mechanical connectors and require minimal tooling and no heat. These joints are also enclosed within JEM resin and glass reinforced shells.