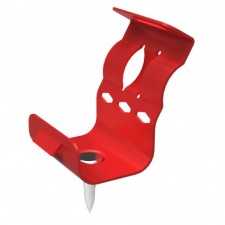 FP Firefix Double Clip
The double clip Firefix is an LUL approved clip for rapid installation of fire alarm and emergency lighting cables.
Features and Benefits:
LUL APR Product ID 1960.
The Firefix™ system is fast easy and meets the cable support requirement of British standards: BS5839-1: 2002, BS5266-1:2011 and BS5839-8: 2006.
Made from corrosion resistant Stainless Steel which is coated with an intumescent LSOH coating in either white or red to match the cable.
Can be fixed to steel, block work, composite steel decking, brick or concrete.