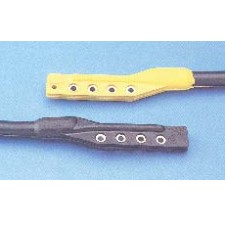 Detection System Cable Assemblies
Factory moulded palms at one or both ends of the cable.
Key benefits are speed, reliability and high quality.
Nickel plated, brass eyelets are terminated to each core and encapsulated in neoprene, ensuring good electrical connection and resistance to corrosion.
The neoprene moulding is fully vulcanised to the cable sheath providing a waterproof seal with excellent strain relief.
Excellent inherent flexibility enables mouldings to pass through restrictions such as glands.
Excellent resistance to vibration degredation.
Low smoke, zero halogen cable option available.