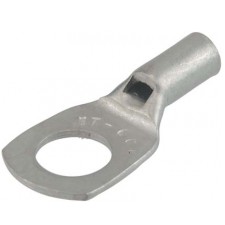 Un-insulated Copper Tube Terminals
One range of connectors, suitable for voltages up to 6.6kV for use on copper and tin plated copper conductors with stranded or flexible annealed construction.
The BT range of connectors are manufactured from high purity oxygen free copper which are then electro tin plated to prevent corrosion; this makes them suitable for operating temperatures up to 150°C.
Each terminal includes a sight hole for visual inspection of the conductor inserted.
The terminals can be installed with indent or hexagonal compression systems up to 400mm² on stranded conductor. Above 400mm² or on flexible conductors indent compression is required.
Each die set imprints the size of stranded conductor onto the connector to show that the correct tooling has been applied.
A wide selection of single stud holes and straight splices are provided and other configurations; two hole and four hole variants are available on request. All connectors are installed with a single crimp except where otherwise stated.
Flexible conductors normally have a larger overall diameter than their stranded equivalents – meaning that flexible conductors often won't fit into the correct size tube terminals. In this case we recommend using the next size up in the range combined with the Indent crimp dies.
Tube terminals and splices and the associated Crimp Die reference tables can be seen on the following pages.