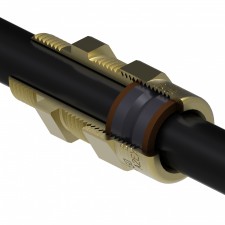 A2EX Cable Gland Kit Ex d IIC / Ex e II
(KM494)
The A2EX is a cable gland that provides high performance in high temperatures in deluge and IP68 conditions.
Brass indoor & outdoor cable gland for use in hazardous areas.
Suitable for circular unarmoured cables with extruded oversheath.
Achieves IP66, IP68 (1 bar) and deluge proof (DTS01:1991) seal onto cable and to enclosure with suitable sealing washer or thread sealant.
Suitable for most climatic conditions- weatherproof, waterproof and deluge proof.